Pharmaceutical
The State of São Paulo concentrates the largest healthcare industrial complex in Brazil, mainly in the municipalities of the Metropolitan Region and in Campinas. According to the Brazilian Institute of Geography and Statistics (IBGE), with 42% of local units and 53% of employed persons, the State is responsible for 71% of the value of industrial transformation (VTI) of the segment in Brazil (2011).
One of the main productive activities of the health complex, the pharmaceutical industry consists of the segments that manufacture pharmaceutical products (pharmaceutical raw materials) and drugs. Reproducing this characteristic worldwide, this industry has a structure concentrated in Brazil, under the control of a small group of large companies, mostly of foreign capital.
These companies coexist with a large number of smaller enterprises, many of national private capital, in addition to public laboratories. Another characteristic is the production and commercialization structure of pharmaceutical products highly concentrate in drugs.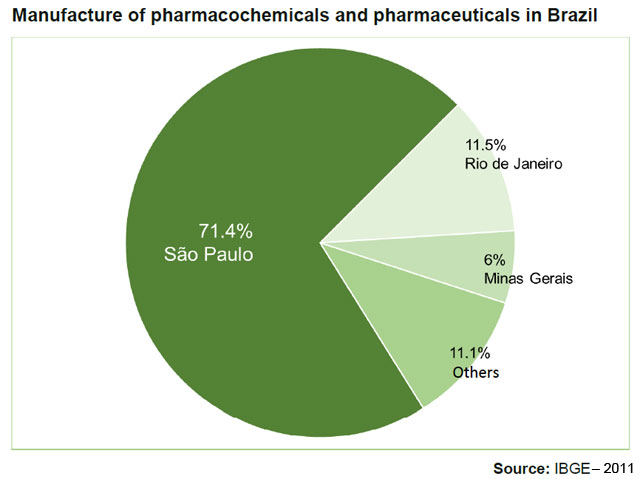 According to Biominas Foundation, the pharmaceutical industry indicates innovation rates higher than the industry as a whole. Manufacturers of pharmacochemical and pharmaceutical products reach rates of innovation of almost 65%, while the processing industry indicates levels of 38%.
The annual investments made by companies in the sector in activities related to innovation exceed US$ 800 million in Brazil (Biominas/ PwC – 2011).
Aiming to increment one of the biggest competitive challenges in the pharmaceutical sector, the National Bank for Economic and Social Development (BNDES) has, among its credit facilities, the BNDES Program to Support the Development of the Healthcare Industrial Complex (BNDES Profarma). Intended for all sectors in the industrial complex of the segment, the program includes, among its strategic objectives, incentive to the dissemination of the innovative activity.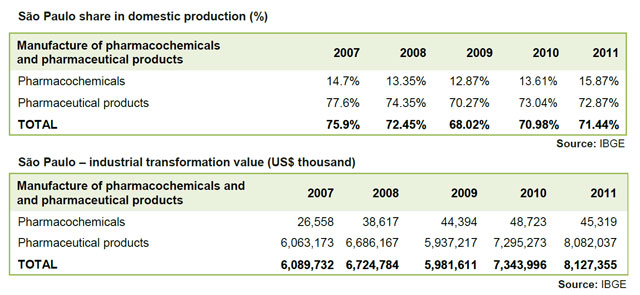 Furp
The Popular Medicine Foundation (Furp) is the largest public drug manufacturer in Brazil, occupying a strategic position in national health policies. Founded in 1974, its production includes more than 70 types of drugs, among which are anti-infectious, anti-inflammatory, and anti-retroviral drugs and medicines to control hypertension, diabetes and mental health.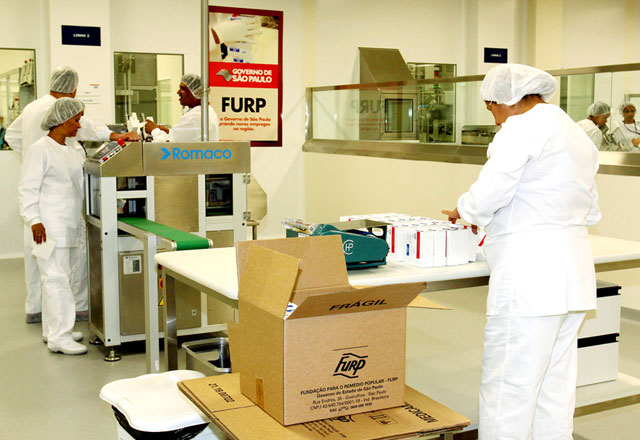 Why invest in the Pharmaceutical industry in São Paulo?
São Paulo represents 71% of the national market.
It has the largest hospital complex in Brazil.
The State develops policies to encourage the production of medicines.
São Paulo relies on Furp, the largest public drug manufacturer in Brazil.
It offers a program of public-private partnerships for investments in the sector.
Click here to download a brochure with more information about the sector.
Contact Us
We invite you to find out why São Paulo is the right choice for your business. Investe SP is always ready to assist you promptly, efficiently, and free of charge. Learn how the Paulista Agency of Investment Promotion can help assess your project by clicking on Services or contact our team on Contact Us.