Orange
Largest producer of oranges in the world, the State of São Paulo accounts for more than 28.8% of the total production in the world, according to 2012 data from the U.S. Department of Agriculture (USDA) and the Brazilian Institute of Geography and Statistics (IBGE). In second place are the United States (USA), with 15.15% of the total production (mainly the state of Florida).
Brazil and the U.S. concentrate almost half of global production. The other producers are: China (12.80%), Mexico (6.23%) and Spain (4.06%) – (USDA – 2012).
Every year, approximately 18 million tons of the fruit are produced in Brazil, and the State of São Paulo accounts for 74% of this total (IBGE – 2012).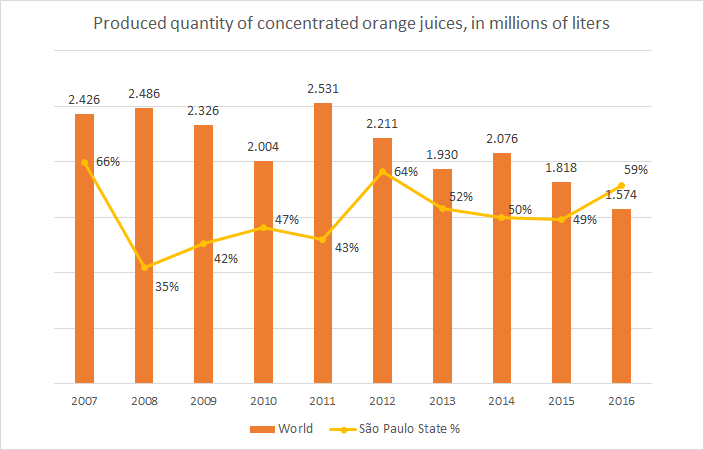 Industry
Modern and advanced, the industrial park for processing orange in the State has an international standard of competitiveness.
Brazil accounts for 81.5% of global sales of orange juice, with approximately 1 million tons, followed by the U.S. with slightly over 100 thousand tons of juice (USDA – 2012).
According to the Ministry of Development, Industry and Foreign Trade (MDIC), exports of orange complex totaled US$ 2 billion in the State, in 2012, and 95% of this amount consisted of processed juice (USDA – 2012).
The State of São Paulo has plants for the processing of orange juice in more than 20 municipalities, primarily located along Rodovia Presidente Washington Luiz and part of Rodovia Anhanguera.
Brazil allocates its production of concentrated and frozen juice to the international market (95%) – (USDA – 2012), mainly to Europe, while Florida allocates its production to the domestic market (86%) and also imports the product from other countries, especially Brazil.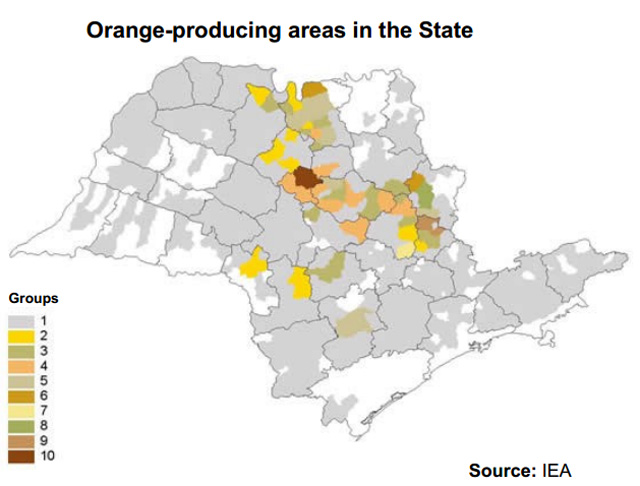 Why invest in the production of Orange in São Paulo?
Abundant supply and high quality for the production of juices.
Favorable climate and harvest throughout the year.
Low production cost.
Proximity of the production sector and the flow channel.
Large-scale industries, with their own ships and warehouses of private ports.
Click here to download a brochure with more information about the sector.
Contact Us
We invite you to find out why São Paulo is the right choice for your business. Investe SP is always ready to assist you promptly, efficiently, and free of charge. Learn how the Paulista Agency of Investment Promotion can help assess your project by clicking on Services or contact our team on Contact Us.