Labor Market
According to the Brazilian Institute of Geography and Statistics (IBGE), 38% of the population in regular employment in the State of São Paulo works in Services. Trade e Industry employ 19% and 17% of the population respectively, followed by Construction and Agriculture (IBGE – 2014).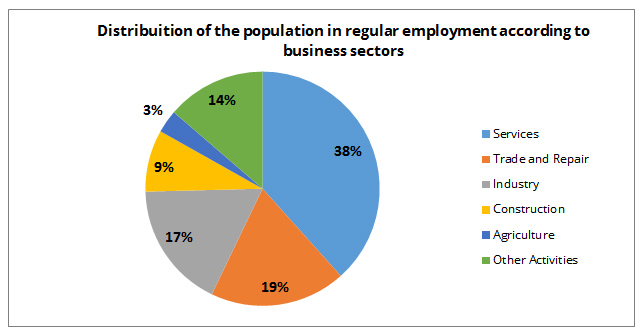 A total of 54,33% of the population in regular employment in the State is concentrated in the São Paulo Metropolitan Area, according to the Ministry of Labor (MT). The average income of employed workers in the Metropolitan Area is around 16,33% higher than the average of the other Brazilian Metropolitan Areas included in the Annual Social Information Report (RAIS) of 2017.
The job market in São Paulo is distinguished by the qualification and training of its workforce. A total of 62% of workers have completed 11 or more years in education, compared to the national average of 50%. The percentage of the employed population that has completed 15 or more years in formal education is 38.7% higher in the State of São Paulo than the rest of the Country combined (IBGE –2014).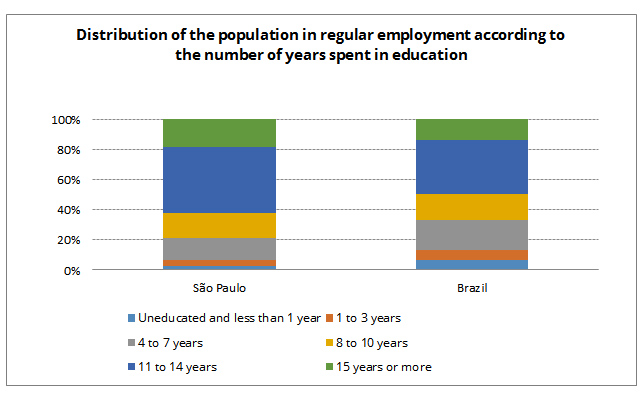 In the metropolitan area specifically, the proportion of workers employed with at least 11 years of schooling increased from 34.6% in 2001 to 65.7% in 2014. Check out the Seade's website for further information about the labor market of São Paulo.
Come invest in São Paulo
Investe SP is always ready to assist you promptly, efficiently, and free of charge. Learn how the Paulista Agency of Investment Promotion can help assess your project by clicking on Services or contact our team on Contact Us.