06/09/2015 18h07
Weidmann transfers production to Valinhos and hires 140 people
Project will rely on the support from Investe SP; production increases 50% with the transfer
Investe São Paulo
Download
Promotion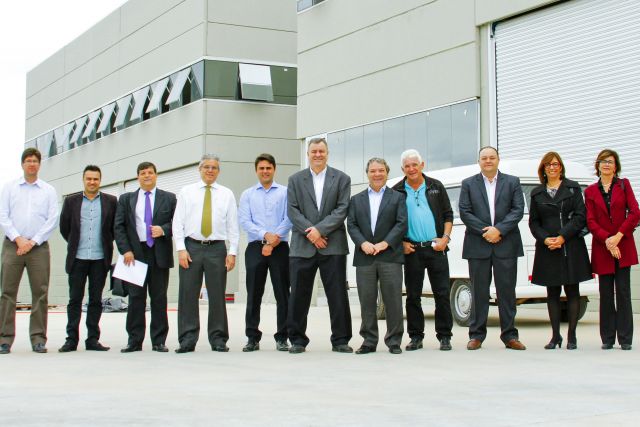 The Swiss manufacturer of electrical insulation solutions for transformers, Weidmann Electrical Technology, announced on June 2 the construction of a new plant in Valinhos. The project will rely on the support of Investe São Paulo, the investment promotion agency associated with the State Department of Economic Development, Science, Technology and Innovation.
The event was attended by the mayor of the city Clayton Machado, the general manager of Investe SP Wilson Soares and several municipal secretaries.
Weidmann will invest R$ 3.1 million in the new plant, R$ 1.6 million of which in infrastructure and R$ 1.5 million in staff training and the costs incurred with the transfer of the production, which is currently located in Piracicaba. Approximately 140 people will be hired directly, and 15 indirectly.
"This investment project was made possible after we contacted the municipality of Valinhos, which was already our partner for a long time. This shows how much the cooperation of municipal administrators with our team is important for investors to continue to invest in the state of São Paulo," said the president of Investe SP, Juan Quirós.
In total, it will produce 25 tons of insulation packages for transformers and special components for power and distribution transformers. The new plant will be prepared to meet a growth volume of approximately 50%.
"Weidmann has a plant in Brazil since 1978 and it has always been in the state of São Paulo. We expect to receive from Investe SP guidance and assistance on legal aspects and licensing to start the project," said the company's COO, Sérgio Brito.
According to him, Valinhos was chosen by Weidmann because it meets the company's needs, both in terms of logistics and technical issues.
"We have been at the company's disposal since the first contact and that is what our team tries to do with all entrepreneurs, who are the engine of this country. Recently, we passed a Tax Incentive law that is already in force. With the support from Investe SP, all municipalities gain in terms of quality of new projects," said the mayor of Valinhos, Clayton Machado.
Today, Weidmann supplies to the entire market of manufacturers of power transformers in South America, such as WEG, Toshiba, Siemens, Alstom and Romagnole in Brazil; Magnetron in Colombia; Urutransfor in Uruguay and Faraday in Argentina.

About Weidmann
Weidmann is known as a global leader in electrical insulation for manufacturers of transformers. The company is focused on the development and production of customized solutions for cellulose-based insulation systems, also offering expertise and products for high-temperature applications, such as locomotives and wind turbines.
The company has nearly 3,000 employees around the world, 4 plants and 18 laboratories. In Brazil, Weidmann has been producing since 1978, when it founded its first plant in Diadema.