02/21/2014 17h07
Toyota holds cornerstone ceremony for its motor factory in Porto Feliz
Event marks the beginning of the construction of the new Toyota production unit, which will begin operations during the first semester of 2016
Investe SP
Diogo Moreira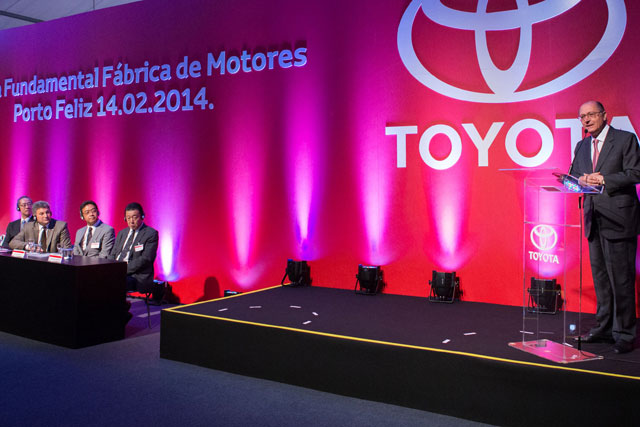 Toyota held a ceremony last Friday (14) following the unveiling of the cornerstone of its new motor factory in Porto Feliz. The event marks the beginning of the construction of another factory to join the other Toyota factories in Indaiatuba, Sorocaba and São Bernardo do Campo, as well as the distribution centres in Guaíba (RS) and Vitória (ES).
The ceremony had the presence of Seiichi Sudo, Executive VP of Toyota Motor Corporation, Steve St. Angelo, CEO of Toyota Latin America, Koji Kondo, President of Toyota Brazil, Takaaki Masuda, Executive VP of Toyota Brazil, Luiz Carlos Andrade Junior, Executive VP of the Corporative and Commercial Divisions of Toyota Brazil, and Geraldo Alckmin, Governor of the State of São Paulo, as well as other authorities representing the federal, state and local governments.
"We have two great news. First, the inauguration of Toyota, of the Etios car factory in Sorocaba, one of the biggest in Brazil. Now, the motor factory, which is the most important advance in technology, innovation, efficiency and research, here, in Porto Feliz", stated Alckmin.
The new Toyota motor factory will feature investments around US$ 500 million and will be responsible, at first, for the production of 1.3L and 1.5L motors and the compact Etios, produced in Sorocaba. In the future, the unit will also host a brand of Corolla motors, made in Indaiatuba. The new entrepreneurship was assessed by Investe São Paulo, which assisted the company in site location and infrastructure.
"We, through Investe São Paulo and the Pro-Vehicle Program, have allowed all ICMS credits for investments within the State in the automotive industry sector, which is a long-chain industry. Ergo, it generates many jobs and is at the core of technological innovations and science advancements", explained the governor.
The site of the new plant was strategically planned to facilitate Toyota logistic operations, seeing as the motors produced in Porto Feliz will supply the Sorocaba and Indaiatuba units. The Porto Feliz municipality is approximately 30km apart from both cities. Also, the region contains high-quality road infrastructure and qualified labor force.
Operations at Porto Feliz are set to begin during the first semestre of 2016, with an initial production goal of 70,000 motors per year. Total capacity of production at the plant is expected to be of 200,000 motors per year.
Ecofactory
The new unit will follow the same Ecofactory concept used on the Sorocaba factory. The principle consists in reducing, each year, the emission of substances (residual and organic) and CO2, as well as maximizing reusing of pluvial water and preserving the environment.