08/11/2016 11h25
Startup from São Paulo participates in mission promoted by Investe SP to Colombia and opens first unit abroad
After contacting potential clients, Tec Mobile realized the need to be present abroad and relies of the support provided by the Agency in the internationalization process
Investe São Paulo
Download
Marina Guimarães/ISP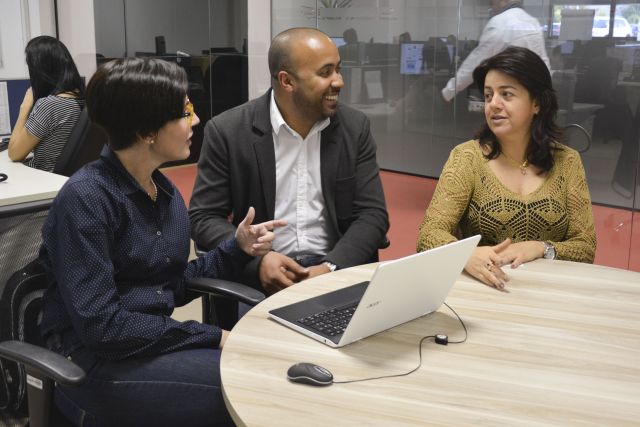 Tec Mobile, one of the small enterprises from São Paulo that participated in the first trade mission promoted by Investe São Paulo within the SP Export program, has just entered into a partnership to establish its first unit outside Brazil, in Bogota, Colombia. The company rents tablets and other technological mobile equipment used in market surveys, event accreditation, among others.
"The consulting firm hired by Investe SP in Colombia helped us get in touch with various survey companies in the country, and most of them asked the same question: 'when are you going to open your business here?' said Evandro Barros, administrative manager of Tec Mobile.
According to him, the startup already had plans to start operating in other countries in South America, but the mission allowed this process to be accelerated. "If I had to go by myself door-to-door and find companies interested in my product, it could take years. And from the time we had the idea to the moment we entered into a partnership with our representative in Colombia, it only took six months," he said.
The mission took place from June 13 to 17, in the cities of Bogota and Lima, Peru, with over 40 entrepreneurs who attended nearly 400 meetings. This mission is expected to generate a turnover of more than R$ 120 million in business.
The project is part of SP Export - São Paulo Export Support Program, conducted through an agreement with the Brazilian Trade and Investment Promotion Agency, Apex-Brazil.
"The internationalization of Tec Mobile is only one example of many other success stories we will witness from now on. It has been only nine months since we started working on exports and the results have been increasingly tangible," said the president of Investe São Paulo, Juan Quirós. The investment and export promotion agency is associated with the Department of Economic Development, Science, Technology and Innovation.
According to the manager of exports of Investe SP, Silvana Scheffel, the idea is that Tec Mobile also receives support from SP Export through another front, the Industrial Export Extension Program, Peiex. "We will help the company properly structure itself for internationalization, both in administrative and practical issues. And our support unit will also learn a lot from the experience of this company, since exports will be more of a service rather than a product," said Silvana.
Tec Mobile currently has six employees in Brazil, focusing on the development of technological applications and in the rental of tablets. Its customer base includes major players that operate in various sectors, such as Google, Adidas, Samsung, Goal, Volkswagen, Mercedes-Benz, etc.
In addition to renting equipment, the company stands out for taking care of the entire logistics of their use, providing transportation, maintenance and even support by phone.
"In the beginning, we will use our base in São Paulo to operationalize the service in Colombia. The financial, administrative and digital marketing operations will remain here. But depending on our growth and as the demand increases, the idea is to transform the unit in Bogota into a copy of the Brazilian unit in the future," said Barros.
The operationalization of the service will be performed by a representative of Aserto Negócios, a Colombian facilitator based in Bogota. The two companies are entering into a partnership to ensure that the Colombian company start operations on August 1st this year.
Check out here the details of the trade mission promoted by Investe SP to Colombia and Peru.

About SP Export
Coordinated by Investe São Paulo and created by the Department of Economic Development, Science and Technology and Innovation, São Paulo Export Support Program – SP Export – seeks to increase the volume of exports from São Paulo, encourage the exporting culture in its business community and help state companies find foreign markets for their products and services.
SP Export is carried out through a partnership with the Brazilian Trade and Investment Promotion Agency (Apex-Brazil), an integral part of the National Exporting Culture Plan (PNCE), in accordance with an agreement signed in late 2015.
The program includes missions of Brazilian companies for prospecting international markets, support to the arrival of potential buyers and foreign exporters and training seminars, in addition to the service provided free of charge through the Industrial Export Extension Project (Peiex), of Apex-Brazil, and Poupatempo do Exportador, an itinerant initiative that brings information from different institutions to the main metropolitan areas of the state.