04/30/2014 10h50
São Paulo is considered State of the Future by Financial Times
Competing with 237 states in South America, São Paulo leads the ranking of "South American States of the Future" and excels in the strategy for attracting investments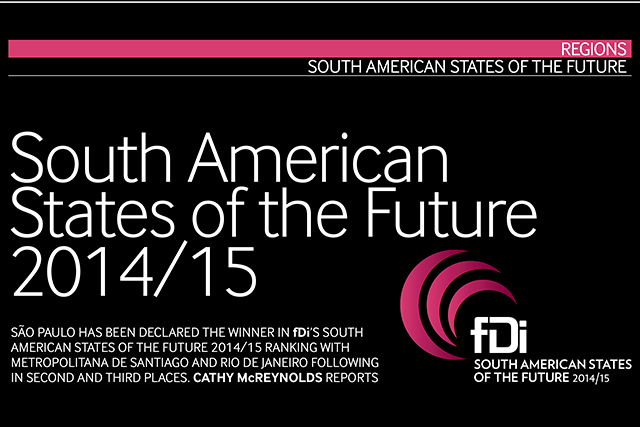 São Paulo won first place in the ranking "South American States of the Future 2014/2015", created by FDI Magazine, a magazine published by the British group Financial Times. In addition to leading the overall ranking, the state was also highlighted in the categories "economic potential" and "FDI strategy".
The article with the newly created award was published in the April/May issue of the magazine. According to the publication, the judges were impressed with the large number of public-private partnerships (PPPs) in São Paulo, projects which promote improvements in the railway, airport, energy and river transport system of the municipalities.
"São Paulo is the second largest economy in South America, behind only Brazil. Our GDP is twice that of Argentina, country with the same number of inhabitants. Over the past 20 years, the state has been heavily making investments in infrastructure, vocational training, science and technology. This strategy is proving to be very successful," said the president of Investe São Paulo, Luciano Almeida, responsible for attracting investments to the state.
The award analyzes economic and social data from 237 states and provinces in South America, creating rankings in five quantitative categories: economic potential, cost effectiveness, infrastructure, human capital and business friendliness. Within each one of them, four sub-categories were created according to the population size: major (over 4 million), large (between 1.5 million and 4 million), mid-sized (between 500,000 and 1.5 million) and small (up to 500,000).
"We collected, updated information of the major states and provinces in South America in the database of the Financial Times fDi Intelligence. São Paulo stands out on economic potential, human capital, infrastructure and business environment. It is a state that truly excels in these areas and also in the strategy for attracting investments," said the chief editor of the FDI Magazine, Courtney Finger.
São Paulo also leads the category "FDI Strategy" (Foreign Direct Investment). In this segment the publication used qualitative data from information provided by 26 states. Thus, the FDI Magazine staff was able to find out the details of how each state promotes itself to international investors. These data were evaluated according to the importance that each tool has in the decision-making process of the investor.
"Having a focal point in the State where investors are able to concentrate all the demands regarding the location of areas, the dialogue with public and private entities and the assistance in terms of environment, infrastructure and tax are essential to facilitate the arrival of new companies," said Almeida. The institution has announced 72 projects that generated R$ 22 billion in investments and 50,400 direct jobs.
Check out the rankings: