12/04/2013 16h47
New Investe São Paulo website relies on interactive features
Dynamic, modern and updated version of the website contains the state's widest sectorial content and presents innovating auxilliary tools
Investe São Paulo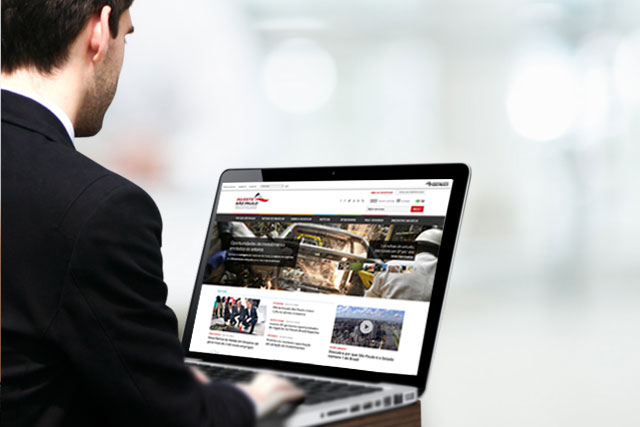 Investe São Paulo has revamped their website from scratch. As part of the new digital communications strategy plan, the new site was made in accordance to the Global Investment Promotion Practices' (GIPB) recommendations. GIPB is linked to the World Bank and estabilishes the best ways in which to orientate investment promotion agencies.
The site brings in many new features, such as the Investor's área, with online support, where investors can register projects and access Investe SP's services anywhere. The channel also offers up-to-date info regarding laws, foreign investing, international agreements, environmental laws, and other subjects.
São Paulo's prefectures also have access to an exclusive area to register available lands and other information about the municipalities presented by Investe SP. Municipalities can view announcements made by companies that are looking for specific lands, and also verify if there are any available areas which matches their stated requirements.
The new site also revolutionized its navigating interface, layout and structure, reuniting the largest sectorial content of the state. According to Luciano Almeida, President of Investe SP, the website works as a data centre, with up-to-date information about the state's business sectors and the advantages of investing in São Paulo.
"Investe São Paulo is keen on being closer and closer to the investor, in order to know their needs and optimize their businesses on the state. The website's goal is to make things much easier regarding communications and information exchange between us, the businessmen and the municipalities", states Almeida.
The "São Paulo in Maps" tool also got a facelift, in which the state map now contain new layers and data, adding more details to any investigations regarding São Paulo. It is possible to check the area for railways, ports, highways and roads, airports, regional divisions, etc., with detailed information about each municipality.
"The website of any agency is the showcase of the place that is being sold to the investor. With this new version, entrepreneurs find out, in a fast way, about the reasons to convince them that São Paulo is the right place for your business. That way, he can start conversations with us immediately, free of hassle", the President Luciano Almeida said.