06/27/2014 10h56
Maxion Wheels is building new wheel factory in Limeira
Investment will generate 500 jobs to produce alloy wheels; Company is being supported by Investe São Paulo
Investe SP
Download
Promotion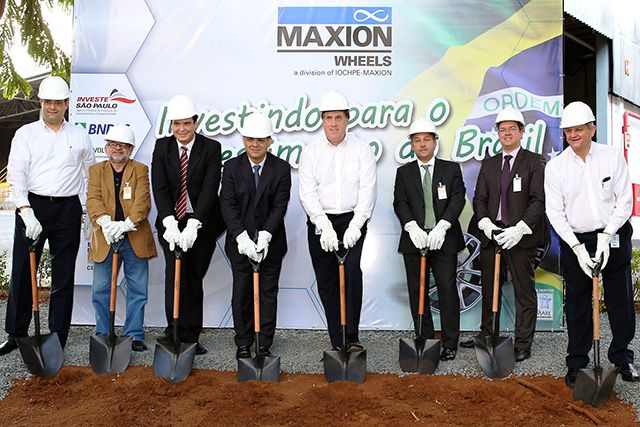 Last Thursday, June 5, Maxion Wheels laid the cornerstone of its new wheel-manufacturing plant in Limeira. The future plant will be built on the same area where the unit known as Fumagalli is located – this unit produces steel wheel for light-duty vehicles and employs approximately 1200 employees in three shifts.
The second plant will manufacture aluminum wheels for the same types of vehicles, generating 500 direct jobs. The project relies on the support of Investe São Paulo, the investment promotion agency of the State Government, associated with the Department of Economic Development, Science, Technology and Innovation.
According to the president of the company in the Americas, Don Polk, the new plant will meet the high demand of the domestic market for vehicles with this type of wheel. "We conducted a detailed analysis as to where the plant would be located. Aspects such as logistics, the city's infrastructure, skilled labor and the good relationship with the community and with the local union had a significant importance in this decision," he says.
The two plants together will include in total 1,700 employees from the city. Polk also points out that the region has several automotive companies and will soon welcome new facilities from the automakers Honda, in the city of Itirapina, and Mercedes-Benz, in the city of Iracemápolis, which also influenced the decision for the city of Limeira. The two companies are also being assisted by Investe SP.
"São Paulo is the state with the most complete chain of automotive suppliers in the country. That is because the region offers the best infrastructure for the production flow, optimizing the logistics of the companies. Maxion's investment in São Paulo is a proof of the reliance on the continuous development of the state and the improvements that are being made in roads, ports and airports," said the president of Investe SP, Luciano Almeida.
Over 40% of plants in the Brazilian automotive complex are located in São Paulo. The State concentrates 49% of the Value of Industrial Transformation (VTI) and 53% of the people employed in the national segment of manufacturing and assembly of motor vehicles, tow trucks and car bodies, according to 2011 data from the Brazilian Institute of Geography and Statistics (IBGE).
About Maxion Wheels
Iochpe-Maxion ("Company") is the largest domestic manufacturer of wheels and chassis for commercial vehicles and railway freight cars and castings. The Company currently generates more than 6,500 jobs allocated in seven manufacturing plants located in China and in the states of São Paulo, Minas Gerais, and Rio de Janeiro.
The company operates in the segment of wheels and chassis, auto parts and railway equipment. Its products are sold in over 42 countries across five continents. In 2008, the main destinations of exports consolidated in terms of value were: USA (48%), Latin America (17%), Africa and the Middle East (17%), Europe (11%).
Read more
Check out information about the automotive sector in the state of São Paulo
TMD Friction lays the cornerstone for new plant in Salto
Quality Steel invests R$ 150 million in new steel plant and logistics center in Cruzeiro