05/13/2016 10h09
Lord Mayor of London starts mission to Brazil by visiting Investe São Paulo
President of Investe SP presents the potential of the state of São Paulo and discusses how to promote the region to the London financial center
Investe São Paulo with information from UKTI
Download
Francisco Rosa/ISP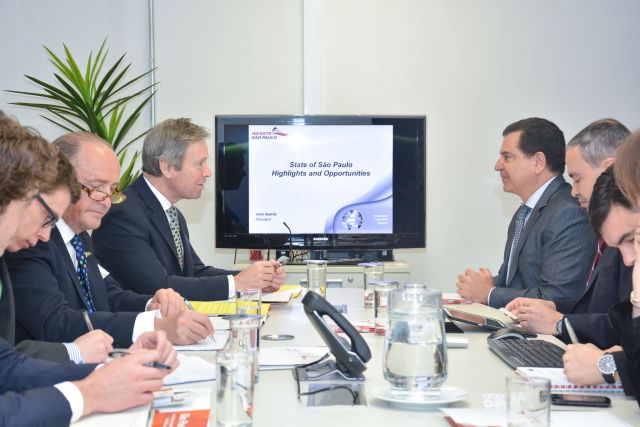 On May 2, the president of Investe São Paulo, Juan Quirós, welcomed the Lord Mayor of the City of London, Jeffrey Mountevans, at the Agency's headquarters. The City of London is the financial district of London, and sent a delegation to Brazil to strengthen the relationship between British and Brazilian companies.
During the meeting, Quirós spoke about the economic importance of the state of São Paulo within the continent, also presenting the model of public-private partnerships (PPPs) used in the state and which may be of great interest to London's financial service companies.
"Companies that come to Latin America tend to settle first in São Paulo, which is both a logistics and service hub for the continent," said Quirós. The executive asked Mountevans to send him a list of companies that could be of interest in the PPP and concession projects available in the state.
"We need to take the information you have shown us to the entrepreneurs in the City of London, who currently know little about the state of São Paulo. The window of opportunities is certainly huge," said the Lord Mayor. He also noted that a major expertise of British companies consists of transferring knowledge, which could be useful for Brazil.
The delegation will also participate in meetings with other Brazilian institutions, seeking to discuss assets and the promotion of the British expertise in finance management. "The UK is the largest European investment management center, managing approximately £ 2.2 trillion (or R$ 12 trillion reais) on behalf of foreign clients. It is an extremely attractive destination for institutional funds, as well as for families and individuals seeking a safe and stable investment environment, said Mountevans.
Also in São Paulo, he will chair the discussions on Fintechs. "We have an incredible opportunity for the UK and Brazil to work together – since London has easy access to global talents and a culture of innovation, and Brazil has a growing interest in this area, the two countries are natural partners. The UK is considered a global capital in the Fintech area. Only last year, it generated a £ 6.6 billion revenue (approximately R$ 36 billion) in this area," he said.
In Rio, he will visit SUSEP (Superintendence of Private Insurance), the body responsible for the control and supervision of insurance markets, private pension, capitalization and reinsurance, and in Belo Horizonte, he will meet with companies to discuss the insurance and reinsurance market in the areas of mining, energy and agriculture. He will also address the opportunities in Minas Gerais for the mining sector in the capital markets, and as a result of the Economic and Financial Dialogue held in London in 2015, there will also be a discussion to align the next steps of UK-Brazil task force in the insurance area.
Download
Francisco Rosa/ISP