01/13/2014 17h50
Investe SP is awarded by the Financial Times for innovative practice
Agency was the only Brazilian entity to receive the award; according to the FDI Magazine, the professional exchange program is what led to the nomination
Investe SP
Francisco Rosa/Investe SP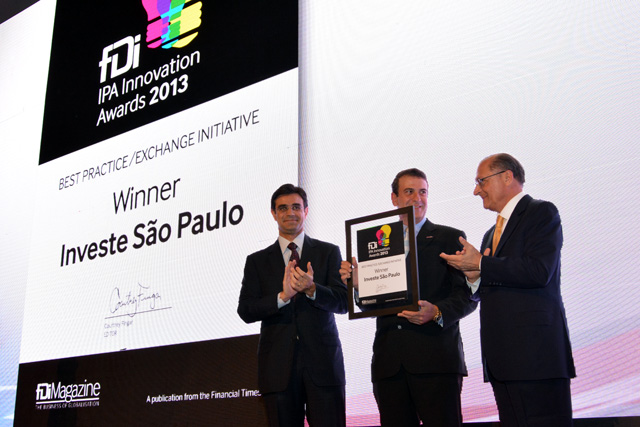 Investe São Paulo was the only Brazilian agency recognized with the FDI IPA Innovation Awards 2013, created by the British magazine FDI Magazine, published by the Financial Times.The SP agency was awarded in the category "best practice/exchange initiative" for having created the professional exchange program with investment promotion agencies (IPAs) from other countries.
The article about the highlights was published in the issue of October/November of the magazine and Investe SP will receive in December, a certificate with the recognition from the Financial Times. Click here to download the publication and also see the video of FDI Magazine editor, Courtney Fingar, congratulating the achievement of Invest São Paulo.
The IPA Innovation Awards analyzes the creativity and innovation of dozens of investment promotion agencies in the world.The analysis is conducted through online questionnaires that are answered by the companies.This year, the premiere of the award, 55 agencies have signed up.
"The exchange program allows the exchange of best practices, the promotion of the state outside the country and contributes to the development of the professionals involved," said the president of Investe SP, Luciano Almeida. According to him, the agency's goal is to continue to create further increasingly innovative practices, and to be nominated to other categories in the future.
FDI Magazine is a bimonthly publication of the British newspaper Financial Times focused on foreign direct investments – FDI, the acronym in English.
At this moment, the project analyst of Investe SP, San Ross, is experiencing the fourth exchange program conducted by the agency.The schedule of Ross involves 40 days of work at the Agency for Investment and Foreign Trade of Portugal (Aicep), including the offices of Lisbon and Porto, in Portugal.
Over the past 12 months, exchanges were also performed with Jetro, in Japan, Kotra, in South Korea, and UKTI, in England.The latter also involved Midas, a promotion agency located in the region of Manchester, and London & Partners, which promotes London.