04/25/2017 13h50
Colombia and Investe São Paulo enter into cooperation agreement
Negotiations began in the middle of last year
Investe São Paulo
Download
Leonardo Mastellini/ISP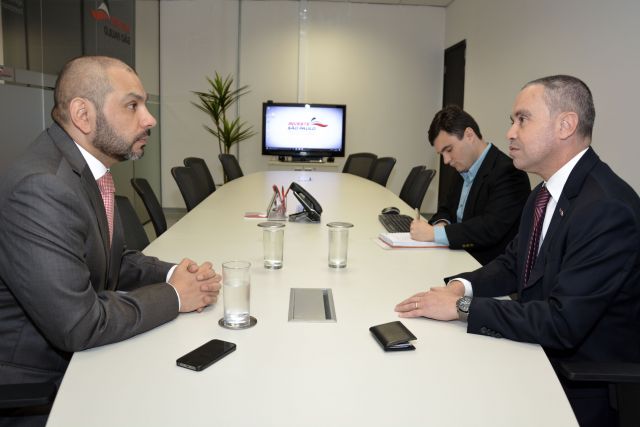 On Friday, March 24, a commercial representative of Colombia visited the headquarters of Investe São Paulo to discuss a potential economic cooperation with the state.Alejandro Peláez met with the Agency's director, Sérgio Costa, and entered into an economic and commercial memorandum of intent aimed at strengthening the relationship between the state of São Paulo and the neighboring country, which accounts for the 4th largest GDP in Latin America.
According to Peláez, who heads the Commercial Office of ProColombia, the largest Colombian companies are in Brazil, and expanding them is part of his plans."We can invite businesses located in São Paulo to rely on the support from Investe SP," he suggested.Only last year, the Agency prospected 98 investment projects, 31% more than in 2015. This year, the intention is to get more Colombian companies to collaborate with the development process of the state.
In addition to acting as a gateway to businesses seeking to expand in the state of São Paulo, Investe SP also provides strategic information for investors to improve their business.Sérgio guaranteed that the Agency is at the disposal of Colombia."Companies have difficulties and we are available to solve them," he said."We do everything with secrecy, safety, and the best:for free."
The internationalization of companies from São Paulo was also discussed at the meeting.Only one week before Poupatempo do Exportador, an event promoted by Investe SP that will provide support to companies from Guarulhos and surrounding region to export, Peláez said that Colombia will always be open to products from São Paulo.On the occasion, he highlighted the Colombian free zone for the health segment and the opening of Public-Private Partnerships (PPPs) in Bogotá, available for the expansion of initiatives from São Paulo.
TecMobile, the startup responsible for renting technological equipment, was one of the small enterprises from São Paulo that started exporting relying on the support from Investe SP.Already based in Colombia, the project shows that economic cooperation initiatives can be effective and that the relationship between São Paulo-Colombia is optimistic."Our role will be to make companies from São Paulo to reach you," said Sérgio.