05/23/2016 11h17
Company from the UAE is introduced to the state's potential at Investe SP
Dnata comes to São Paulo after the visit of Juan Quirós to Dubai and Abu Dhabi
Investe São Paulo
Download
Francisco Rosa/ISP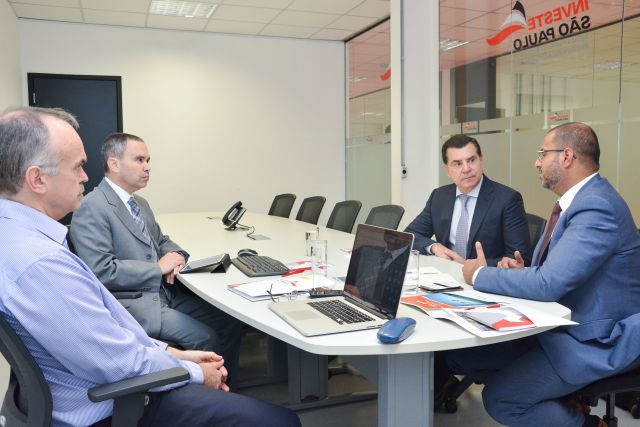 Twenty days after the trip of the president of Investe São Paulo, Juan Quirós, to the United Arab Emirates, the Agency welcomes investors from the company Dnata, interested in learning about the potential of the tourism market in the state of São Paulo. Quirós and the institutional director of Investe SP, Sérgio Costa, went to the Middle East looking for investors of the so-called sovereign wealth funds of Dubai and Abu Dhabi.
The funds were created to meet the challenge represented by the falling oil prices, which, according to experts, will hardly reach its record price of US$ 150 per barrel again. Therefore, concerned about the drop in revenues represented by the current price per barrel, which is between US$ 35 and US$ 40, producing countries have been seeking more profitable investments around the world. And the state of São Paulo stands as an option to those large investors.
Dnata, an Emirates Group company, is one of the world's largest airport service providers. Dnata landed in the Brazilian aviation market with the acquisition of RM Ground Services, the largest airport service provider in the country.
"In a scenario in which the country needs to create jobs, the mission given to us by Governor Geraldo Alckmin was to bring investments that create jobs in the state. And the visit of Dnata to get to know more about São Paulo shows that it was the right strategy and we hope to have good results," said the president of Investe SP.
Juan Quirós and Sérgio Costa welcomed Geoff Wood, senior vice president of Operations of Dnata Travel, and Asif Parkar, business manager of Dnata Travel Emirates Group. Both of them had an overview of the state of São Paulo and learned about the services provided by Investe SP. They received information and all the necessary attention from the agency's professionals.

Expectation
During his visit to the UAE, Juan Quirós also met with DP World, which operates 70 terminals in 31 countries and manages the Port of Dubai and Jebel Ali Free Zone, the largest free zone in the region of Middle East and North Africa. Results from the visit by ADIA – Abu Dhabi Investment Authority, the Sovereign Wealth Fund of Abu Dhabi Emirate, are also expected. The fund is responsible for the investment of the surplus of oil revenues of the Emirate. ADIA recently confirmed an investment of R$ 400 million in the construction of the Four Seasons Hotel São Paulo, at Avenida Nações Unidas, a project led by the Brazilian company Iron House, to be opened in 2017.