Aerospace and Defenses
The State of São Paulo has the largest aerospace hub in Latin America, located in the region of São José dos Campos. Among the three largest in the world, Empresa Brasileira de Aeronáutica (Embraer) and other companies operating in the sector develop in São Paulo processes and products for the segments of business and executive aviation, in addition to integrated solutions for defense and security.
According to the Annual Report of Social Information (Rais) of the Ministry of Labor and Employment (MTE), Brazil has 136 facilities installed for aircraft manufacturing. Out of these, 99 are located in São Paulo (2012).
The characteristics of São Paulo stand out in the Brazilian aviation industry, which is evidenced by the figures from the Brazilian Institute of Geography and Statistics (IBGE). São Paulo accounts for 73% of local units, 95% of employed persons and 96% of the industrial transformation value (ITV) of the national aviation industry (IBGE – 2011). The aviation industry accounts for 7.6% of exports from São Paulo, with the European Union as the primary market, according to the Ministry of Development, Industry and Foreign Trade (MDIC – 2012).


About Embraer
Operating in more than 80 countries on five continents, Embraer is the world's largest manufacturer of commercial jets with up to 120 seats. In the executive aviation segment, the Company expanded its global market share from 3.3% in 2008 to 15% in 2012.
With the most extensive and modern portfolio in the market, Embraer has already delivered more than 650 executive jets to 50 countries, consolidating itself among the greatest powers of this industry.
Consolidating its central position in the domestic industry of defense material, Embraer Defense & Security offers a range of integrated solutions that includes C4I (Command, Control, Communication, Computer and Intelligence Center), advanced technologies in the production of radars, unmanned aerial vehicles (UAV), advanced information and communication systems, as well as military aircraft.
The company has five industrial plants with engineering, development and manufacturing activities in São José dos Campos (SP), Botucatu (SP) and Gavião Peixoto (SP), and two logistics centers in Taubaté (SP) and Campinas (SP) and a new service center in Sorocaba (SP).
Overseas, the Company has industrial units in the United States, Portugal and China, as well as its own service, maintenance and spare parts centers in São José dos Campos (SP), Fort Lauderdale (Florida – USA), Mesa (Arizona – USA), Nashville (Tennessee – USA), Windsor Locks (Connecticut – USA), China, France and Singapore.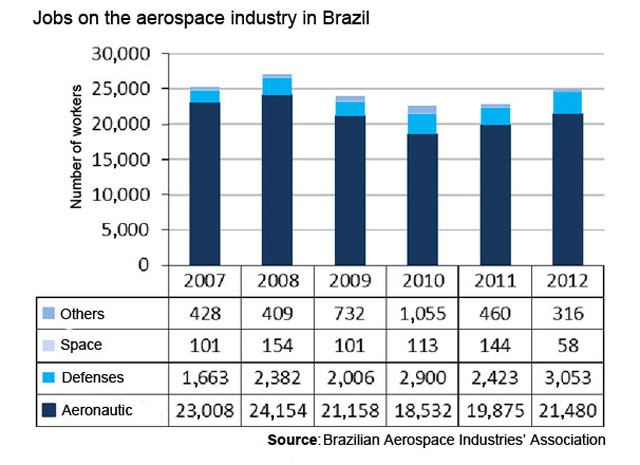 Local Productive Arrangement
Known as Brazilian Aerospace Cluster, the Aerospace Local Productive Arrangement, coordinated by the Department of Economic Development, Science, Technology and Innovation (SDECTI), in partnership with the Center for Competitiveness and Innovation Cone Leste Paulista (Cecompi), promotes the synergy between companies in the Brazilian aerospace industry, as well as their national and international competitiveness.
Research and Development
Why invest in the Aerospace sector in São Paulo?
Presence of production units of Embraer and others companies in the industry.
Largest worldwide manufacturer of commercial aircraft with up to 120 seats.
It hosts the main suppliers of parts and services in Latin America.
Brazilian Aerospace Cluster, with technology-based incubators.
It offers modern study and research centers focused on the aerospace industry.
Click here to download a brochure with more information about the sector.
Contact Us
We invite you to find out why São Paulo is the right choice for your business. Investe SP is always ready to assist you promptly, efficiently, and free of charge. Learn how the Paulista Agency of Investment Promotion can help assess your project by clicking on Services or contact our team on Contact Us.