11/03/2016 16h26
Investe SP accompanies meeting of mayors of São Paulo and Buenos Aires
Partnerships in the areas of management and investment attraction were evaluated by João Doria and Horacio Larreta
Investe São Paulo
Download
Promotion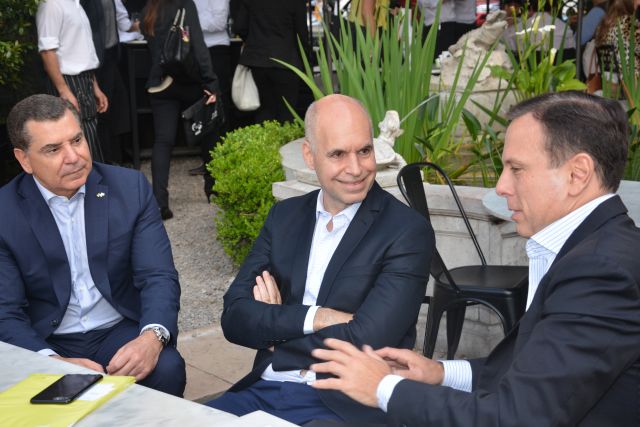 The newly elected mayor of São Paulo, João Doria, and the mayor of Buenos Aires, Horacio Larreta, held a meeting in the capital of Argentina to evaluate the partnerships that can be developed by them to share good management experiences from the two cities. The meeting was accompanied by the president of Investe São Paulo, Juan Quirós, who took the opportunity to invite the mayor of Buenos Aires to participate in the mission promoted by the Agency with entrepreneurs from São Paulo in partnership with Apex-Brazil, in Buenos Aires, from November 2 to 4.
The ambassador of Brazil to Argentina, Sérgio Danese, also attended the meeting and became interested in the trade mission, even considering the possibility of inviting the president Mauricio Macri to attend the opening of the event, which will bring together more than 100 entrepreneurs from São Paulo. Several business roundtables will be held with entrepreneurs from Argentina.
Investe SP promotes the mission under the guidance of the Department of Economic Development, Science, Technology and Innovation, to which it reports. The initiative follows the determination of governor Geraldo Alckmin to increase exports, especially from small and medium enterprises from São Paulo, in order to generate more jobs and income in the state.
João Doria and Horacio Larreta discussed urban governance, public transportation, management and partnerships in the areas of education and culture. The mutual attraction of private investments for the two cities was another topic addressed at the meeting, which was attended by Juan Quirós.
"We are experiencing a time of economic reaction in Argentina and Brazil. São Paulo, as leader of the national economy, is available to enhance these relations seeking to strengthen the business environment and the consequent creation of jobs and income," said Juan Quirós.