05/13/2016 09h58
Freudenberg Group opens new plant in Valinhos
Investment of R$ 60 million, which relied on the support from Investe SP, seeks to promote customer proximity
Investe São Paulo
Download
Promotion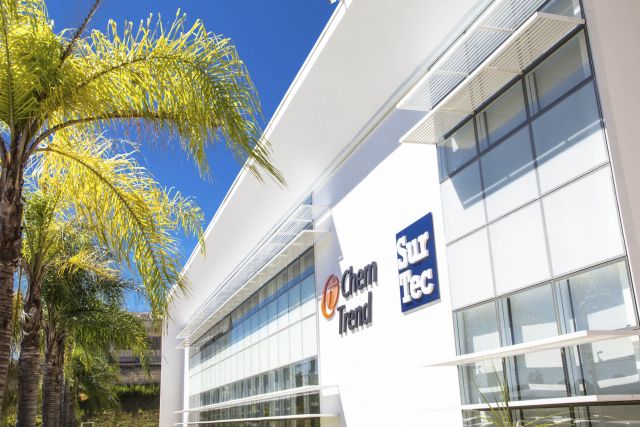 On April 29, the Freudenberg Group, a leading global technology company, announced the opening of a new plant in the city of Valinhos (SP). The new state-of-the-art facilities will be jointly operated by Chem-Trend and SurTec, both integrate the Group's Chemical Specialities Division and will develop, manufacture and sell mold release agents, process chemical specialities and chemical surface treatment solutions to meet the customers' needs in various segments.
The project relied on the support provided by Investe São Paulo, the investment promotion agency associated with the Department of Economic Development, Science, Technology and Innovation of the state of São Paulo. "The state of São Paulo continues to grow, and the confidence of Chem-Trend and SurTec clearly shows it. Our team will continue to provide the support required for the project to be a success," said the agency's president, Juan Quirós.
"The new plant is a visible sign of our long-term commitment in relation to our Brazilian customers in various industries," said Juan Carlos Borchardt, Regional Representative of the Freudenberg Group in South America.
The new plant replaces two older operations of SurTec and Chem-Trend that have been active in Brazil for decades. The investment in the new facility, comprising administration and sales functions, logistics and warehouses, laboratories and manufacturing operations, will significantly improve customer service and reduce response times to meet the market demands.
"Customer proximity and customer service have been the basis of our development in Brazil so far and enabled us to successfully master the country's challenging economic scenario. The new plant will allow us to serve our local customers even more efficiently, with cutting edge products and services," said Hanno D. Wentzler, President and CEO of the Chemical Specialities Division of Freudenberg Group.
"In addition, the investment shows that Freudenberg is serious about acting as a corporate citizen, sparing no efforts to ensure the full compliance with regulatory issues and meet all relevant environmental and safety standards," said Wentzler.
The total area covered by the plant is 29,000 square meters, of which 11,000 square meters consist of buildings. The maximum manufacturing capacity is 13,000 tons of release agents, process aids and chemical surface treatment products. More than 100 employees, including outsourced employees, work for customers in various industries, including automotive, aerospace, footwear, wind energy, construction, industry in general, and household appliances, etc.
"The new site provides the potential for improving capabilities with regard to production volumes, logistics, customer service, technical support, as well as Research & Development even further," said Paulo Noce, CEO of Chem-Trend and SurTec Brazil. "Both Chem-Trend and SurTec are certified in accordance with ISO 9001 and ISO 14001 (Chem-Trend is also certified with OHSAS 18001) and meet all international standards in relation to quality management processes, environmental protection, occupational health and safety in the workplace," he said.

Infrastructure
The investment seeks to significantly improve customer proximity and customer services, thus allowing us to meet specific demands in a faster and highly efficient manner, according to the market needs in Brazil and other South American countries.
The new plant allows improvements in operational efficiency, offers areas for application and engineering tests and ensures faster response times. Thus, it will provide support to customers in the processes to increase the quality of parts and components, reduce raw material waste and fulfill environmental requirements, thus leading to an increased productivity. In the long run, the new operation will also focus on the production of cutting-edge products and offer opportunities that take full advantage of the potential synergy between the two companies.

About the Chemical Specialities Division
The Chemical Specialities Division is a business unit of the Freudenberg Group, which develops, manufactures and sells chemical specialities. With its five independent operation companies – Klüber Lubrication, Chem-Trend, OKS, SurTec and Capol –, it is one of the leading global manufacturers of specialty lubricants, mold release agents, chemotechnical maintenance products, chemical surface treatment solutions and confectionery surface conditioning.
The Chemical Specialities Division is headquartered in Munich, Germany, with subsidiaries in 40 countries worldwide. In 2015, the company hired more than 3,300 employees and reported sales which totaled € 960 million.

About the Freudenberg Group
Freudenberg is a global technology group that strengthens its customers and society in a sustainable manner through forward-looking innovations. Together with its partners, customers and the scientific community, the Freudenberg Group develops cutting-edge technologies and excellent products and services to over 30 market segments and thousands of applications. Innovation strength, strong customer orientation, diversity and team spirit are the cornerstones of our Group.
The 167-year-old company holds strong to its core values: commitment to excellence, reliability, pro-active and responsible action. In 2015, the Freudenberg Group employed over 40,000 people in 57 countries worldwide and generated sales of more than € 7.5 billion.
For more information, please visit www.freudenberg.com.br.