03/09/2017 11h19
Municipality of Guarulhos and Investe SP develop agenda to provide support to exports and investments in the city
Meeting held at the office of the Department of Economic Development, Science, Technology and Innovation of the city connects teams and initiates joint work between institutions
Investe São Paulo
Download
Marina Guimarães/ISP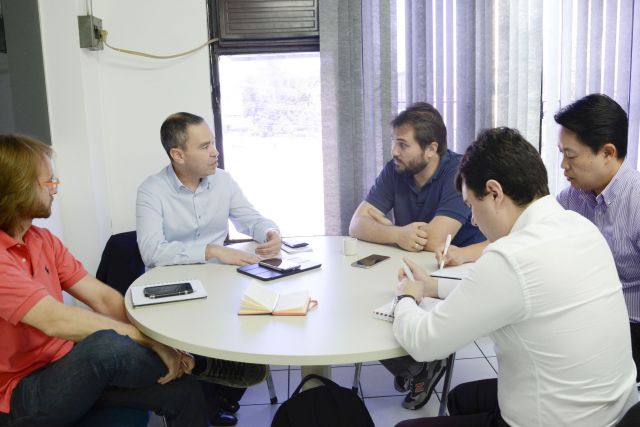 In January, a team of Investe São Paulo attended the office of the Department of Economic Development, Science, Technology and Innovation of Guarulhos (SDCETI).
The meeting was held to discuss joint actions to be promoted in the coming months between the department and the state agency to bring businesses in the city closer to the services offered by Investe SP.The agency is associated with the Department of Economic Development, Science, Technology and Innovation of the state, under the responsibility of the vice-governor of the state, Márcio França.
"Most of our work depends on the cooperation of local governments, as they are the ones who are directly in contact with businesses – either to encourage expansions, exports or new investments.Guarulhos is a major gateway of Latin America, and it is important that all government levels work together to contribute to the development of the region as a whole," said Sérgio Costa, director of Investe SP.
Also accompanied by the agency's Investment Analyst, Rafael Murgi, Costa showed some of the services offered to companies interested in internationalizing – such as Poupatempo do Exportador (a public service developed to provide streamlined support to exporters) and Peiex (Industrial Export Extension Project).
The idea is to promote, still in this quarter, an edition of SP Export in Guarulhos, offering businesses in the region an opportunity to be in direct contact with various institutions and useful services for those who want to start exporting products from São Paulo.
The secretary of Development, Rodrigo Barros, in turn, presented the entire strategic project of the department for the next four years, including encouraging the creation of industrial clusters in the city and the restructuring of existing support services to entrepreneurship.
"With regard to the internationalization of companies, we want to study and build relationships with neighboring cities of Guarulhos and create an export corridor connecting the region to key logistics points, such as Viracopos Airport, São Sebastião and Santos," he said.
The secretary attended the meeting accompanied by Adam Akhiro, director of Industrial and Trade Relations and the director of Technology of the department.Together they organized a working agenda with a series of collaborative actions to be carried out between Investe SP and the municipality to stimulate economic development in the region.