10/05/2017 14h04
Advisory board gathers public, private and educational institutions to strengthen São Paulo's international relations
Director of Investe São Paulo, Sérgio Costa, represented the agency during the first meeting since the organ's creation, in August
Investe São Paulo
Download
Alexandre Carvalho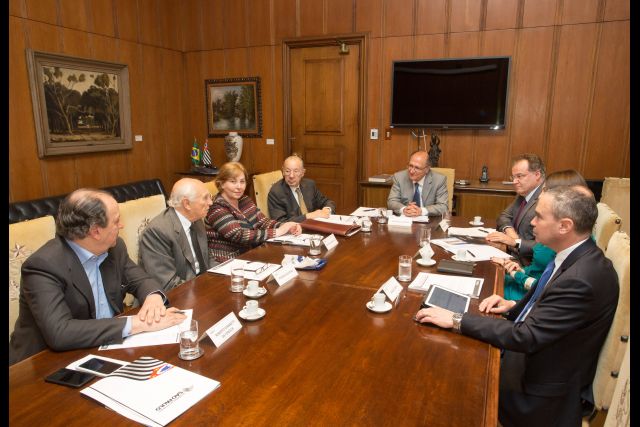 The first meeting of the International Relations Advisory Council (CCRI), created last August, was held on Tuesday, September 26th. The group met at Palácio dos Bandeirantes to discuss and find international partners to promote the State development. CCRI is composed by ambassadors, academics, private sector and public representors.
"São Paulo will have its place in the world market to promote international trade, support  exports and search for new markets. This is also a partnership with the International Relations Department of Brazil, commercial missions and so on. In short, we are going to foster economic development, job opportunities and income in São Paulo state", claimed the governor Geraldo Alckmin.
The director of Investe São Paulo and member of the council, Sergio Costa, explained the job of Investe São Paulo in the process. "During the last two years we have structured ourselves to expand the agency's outreach around the world, promoting São Paulo State as an investment destination. We have entered into deals and partnerships – nowadays not only as investment inductors but also encouraging exports and internationalization of our companies", he explained.
"Throughout a closer relation with the world, we want to expand the socioeconomic development of the State", claims Ana Paula Fava, member of the group and Special International Relations Advisory Office Leader of the Government State of São Paulo.
The first meeting was held to establish CCRI's activities, and later, it will focus in the plan to put its agenda in practice . The group's idea is to debate São Paulo's international operations, discuss strategies and work a plan bound to 2030.
The act
Geraldo Alckmin signed, in July 4th, the act 62673/2017 which instituted the International Relations Advisory Board. The document was signed in the governor's office in the presence of the secretary Samuel Moreira and the AEAI's Leader, Ana Paula Fava.
In August 23rd, Alckmin concluded board members list. According to the act, there are three attributions to the CCRI: to inform the state government about the main tendencies in the international relations; to make recommendations about the state's position in the global market, aiming toe arrange its actions with the Brazilian External Policy's goals; and lastly, to propose strategies for São Paulo  state in international matters until 2030.
Members
Are also part of the board: the vice-gorvernor Márcio França, the master-secretary of Casa Civil, Samuel Moreira, the ambassador Rubens Barbosa, the office's leader of the Minister of International Relations of São Paulo, ambassador Débora Vainer Barenboim, the copresident of Natura's Administration Council Pedro Luiz Barreiros Passos, the economist Roberto Giannetti da Fonseca, besides the ambassador, ex Financial and Environmental minister Rubens Ricupero  and José Augusto G. Albuquerque, Unicamp and USP's International Relations researcher.